Turn Google searches into orders
70%
of searches begin on Google with "cuisine types" vs. the restaurant brand name.  Every day, three billion search results are generated from the 17 million searches for "food near me". With the Ordering Website and Google integration, your business can capitalize on these searches by enabling consumers to order online directly from your restaurant across Google Search, Google Maps, and the Google Assistant.
With Web Ordering System, you get a website with fully integrated online ordering. Now your customers can order with ease in only a few clicks, never leaving your site.
With your own website and domain name your customers can easily find you online, view your business information, and order on any device.
Talk to one of our team members today. We're here to discuss your online ordering needs. We have a dedicated customer success team that is here to help you grow your sales starting with your own online ordering website.
Take orders online through your own branded website
With Web Ordering System you can easily create a new online ordering website or add online ordering into your existing website.
Don't let Just Eat steal your regular customer

rather

keep your customer to yourself and let's start convert customer from Just Eat 
are you using Just Eat? its even batter if you do let's start use them get you new customer and  you keep them to yourself forever.
Restaurant owner's admin panel dashboard
alerts you that there is an pending order waiting to accept & print,
our online ordering system integrates with PC, Laptop & tablet.
No additional labor or work, just more orders.
Wireless printer alerts you that there is an order waiting to print. Visitor collects in store or has the order delivered to their address.
Fix delivery charges with specific areas.
Allow your customers to see if they're within the loop! Providing delivery has never been easier. Set delivery perimeters with our Geo-fencing feature, and designate zones with different delivery fees and order minimums. You have complete control over how far you are willing to deliver, down to the street.
for discounts which clients can use to get reduced prices when ordering food online. They can be for a certain amount or percentage, fixed, time-limited, or recurring. Name the code as you wish!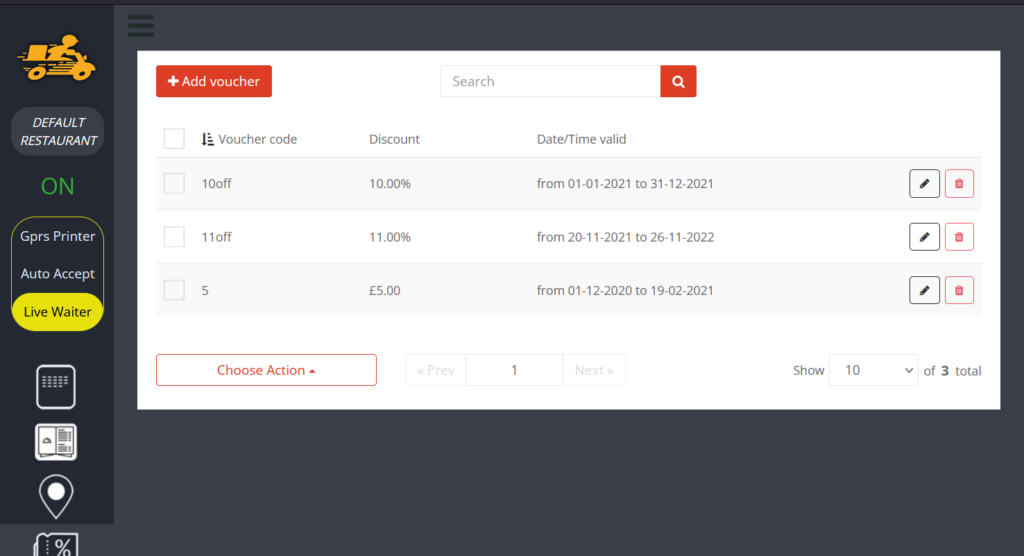 Securely accept credit card payments. Customers can save cards on file, so they can pre-pay for an order in just a few clicks or pay cash on delivery
Change your working hours anytime directly from your order dashboard
Add, modify or remove your items from your menu anytime, temporarily hide items from your menu if you are out of stock  
Email & SMS Marketing & Promotions
Be in touch with the foodies in your area through frequent email & push notifications from your admin dashboard. With exclusive offers, coupon codes, and newsletters, you can encourage and engage your customers to place orders through your restaurant websites/App.
To send texts/email notification to your customer's mobile phone when their order is ready for collection or delivery.
You can customize the content of the text/email message to tell them when to collect their order or when it will be delivered. For example, it might say: "We are currently making your food order and it will be ready to collect in 15 minutes."
Unlimited Email marketing is free of charge 50p SMS fee will be apply for each order to send up to 3 messages, 
We will  build your own mobile web application and you can have a mobile ready ordering site at no extra cost !
Push Notifications
Send regular push notifications to your customers to keep them engaged and up to date with your latest menu offerings and specials
Ordering App
Allow customers to order from within your app using your customised online menu
We build you a mobile ordering app, website and online ordering system, with loyalty, card payments and marketing, all individually branded to your business with your colours, logos and images. We include a printer & tablet to handle your online orders and we provide full training, backup and support, so you can increase your order numbers, reduce your costs and grow your profits.
ePOS System for restaurant & takeaway
Pay £0 upfront and get up to £500 of free hardware when signup for online ordering system.*
Caller ID integrated Ready
With our caller ID integration you have your customers' details in front when you receive a call.